FAW

FAW Kenya Limited one of the leading auto dealers in East Africa region was founded in 2005. FAW Kenya deals in leading global brands like First Automobile Works (FAW). The founders of TransAfrica Motors are also involved in logistics, manufacturing, financial services (insurance) and mining.
FAW Kenya branch of networks ensures that we are able to serve our customers where they are. We have invested in modern workshops that are fully equipped and showrooms in located strategic areas in major cities.
FAW Kenya has invested in a highly motivated team of employees who have the expertise to meet and anticipate our customers' expectation. The team has also been provided with necessary tools like a comprehensive inventory management system to assist them to execute their tasks proficiently. In addition, we have invested in both onsite and offsite training programmes to ensure that at all times our staff have the latest knowledge.
We have established relationships with financial institutions and other lenders to facilitate innovative financing options for our customers.
TAM has grown from a single branch in Nairobi, Kampala Street in the Industrial Area, to four branches in major towns in Kenya including two branches in Nairobi and one each in Kisumu, Mombasa and Nakuru. The total staff complement has grown to over 300 employees. FAW Kenya was successfully able to position FAW in the Kenyan market and also grow new brands.
TCM

The TCM FORKLIFTS offer every business a strong, reliable, rugged yet refined and comfortable machine. The list of enhancements for the TCM Forklift has made it possibly the most rounded machine in its class.
With a build quality second-to-none; low cost of ownership; simple servicing, warranty and ergonomics which offer safe, comfortable and productive driving and operation – it is certain you will struggle to improve on this comprehensive package.
It's got every safety feature you'll need on a modern design, to a quality standard we're proud of – the TCM Promise.
Bottom line is, it makes business sense; reliability that is the envy of the industry keeping costs right down and keeping your operations running; comfortable, safe trucks that drivers feel confident about operating; low cost of spares, strong residual values.
FAWDE GENERATORS

FAWDE has domestic leading independent research and development capacity. Relying on the advantage of the technology center of FAW, it has formed an independent research and development mode of open cooperation, built "five independent R&D systems" including the product development process and standard system, and the product development process management system, and set up "five independent R&D technology platforms" involving energy-saving and environmental protection technology, and e-intelligence technology, which is the only enterprise that has various core technologies such as VCU, GPS, EGR, and engine braking in the diesel engine industry, as well as the first enterprise that has successfully developed the four-valve diesel engine and electronic-controlled common-rail diesel engine, and successfully developed and promoted the two-stage supercharged diesel engine in China.
SANY

The Sany Group was founded in 1989 as a small welding materials factory. Today, it is the largest construction machinery corporation In China and the fifth largest globally. Two of its member companies are listed on separate stock exchanges; Sany Heavy Industry Co., Ltd. on the Shanghai Stock Exchange and SANYHE
International Holdings Co., Ltd. on the Hong Kong Exchange. And Sany Heavy Industry Co., Ltd. was the first-ever Chinese business to successfully achieve the government-owned enterprise transfer to the private sector under the non-tradable stock reform program. It is also listed among the world's top 500 companies in the construction machinery industry.
Today, Sany is the leading brand in China for concrete pumping machinery, excavators, crawler cranes, rotary drilling rigs and coal mining machinery. And Sany concrete pumping machinery is No. 1 worldwide.
Each year, Sany allocates between 5% and 7% of its total sales revenue to R&D projects, with the goal of providing even more world-class products for customers everywhere.
At this time, Sany has state-of-the-art technology development centers and post-doctoral research centers.
As of June 30, 2014, the Sany Group had applied for over 7,500 patents. With over 5,000 patents already authorized, the Sany Group ranks No.1 in the industry.
While constantly working to improve its product quality, the Sany Group is also committed to providing comprehensive and wortd-class customer service with 15 logistics and parts distribution centers worldwide.
With its unique advantages, Sany continues to strive to help build a better world.
EP FORKLIFTS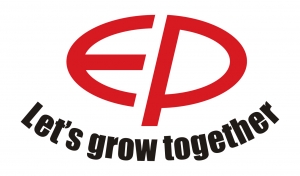 Founded in 1993 EP Equipment has become one of the top players in the world of intralogistical solutions.
Right from a start EP Equipment focused on electric and has kept this focus until today. Nowadays, EP Equipment stands for highly innovative products in the field of warehouse trucks, that just fit the need of our customers.
With a core competency on small warehouse trucks, EP Equipment has focused its efforts on the needs of the retail, manufacturing and distribution industry. At EP, we believe that urban logistics is a mega trend, that needs new, smart solutions and we have those solutions already today.
Producing a good pallet truck is about keeping the balance between the actual need of the customer and an attractive price level.